Late last year the NZAgbiz team traded their lab coats and gumboots for more formal attire to attend the NZI Sustainable Business Network Awards.
NZAgbiz, a Fonterra business unit that manufactures livestock nutrition products using primarily Fonterra ingredients, were award finalists in the popular 'Going Circular' category.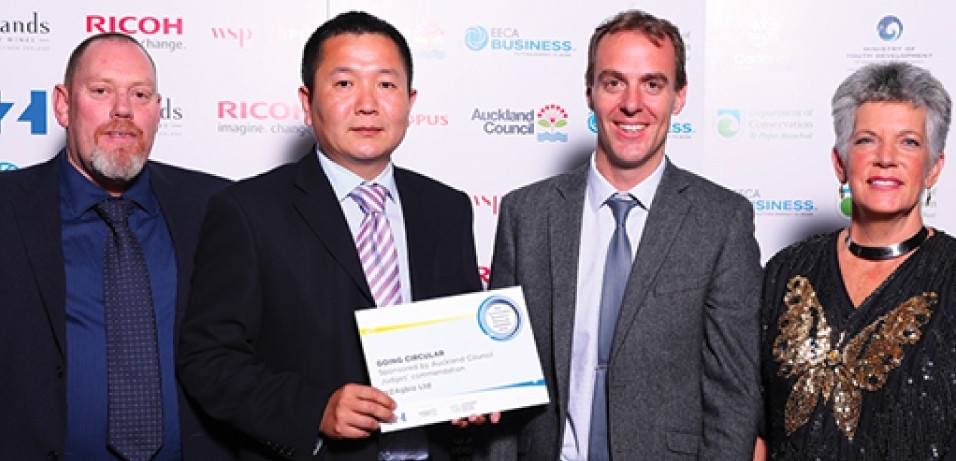 Described as New Zealand's 'Oscars of sustainability' the Sustainable Business Network Awards have been running for 16 years and are the pre-eminent and longest-standing sustainability awards in New Zealand.
The glitzy sit-down dinner event for 600 people was held on Auckland's waterfront in November and the team from NZAgbiz didn't leave empty handed. As one of eleven finalists in the 'Going Circular' category, NZAgbiz received a Commendation, beating nine worthy finalists and coming second to one - the ethical-beauty brand Ethique.
Established in 2008, NZAgbiz have built a strong reputation as producers of top-quality animal nutrition products that are valued by farmers, including New Zealand's number one premium calf milk replacer (CMR), Ancalf™, which contains added vitamins and minerals, a coccidiostat and a prebiotic. Like all NZAgbiz products, Ancalf is rigorously tested to Fonterra's stringent standards.
NZAgbiz General Manager Greg Cate says the recognition from New Zealand's largest sustainable business organisation is a huge credit to the entire NZAgbiz team.
"We entered the 'Going Circular' category because it so aptly describes the NZAgbiz business model"
"We entered the 'Going Circular' category because it so aptly describes the NZAgbiz business model," says Greg.
Since the industrial revolution, businesses have been built and operate on, a linear 'take-make-waste' model. But as pressure on resources grows, there is a need to shift to a more 'circular' economy. The circular model seeks to maximise the lifecycle of materials, optimise usage, and re-use materials. 'Going circular' means designing products to help create a circular economy in New Zealand. And that's exactly what NZAgbiz do.
"At NZAgbiz we take loss streams from Fonterra and other dairy manufacturing plants and re-work it into useful animal nutrition products. These products are then sold to farmers to help their livestock thrive. Our purpose is to reduce waste by creating value from dairy industry products that would otherwise go to landfill," says Greg.
The raw waste materials NZAgbiz use include products known as 'loss streams' such as oversized sifter particles, fine powder particles and cheese trims as well as 'downgrade products' such as powder, butter, cheese and cream cheese.
After being re-worked by NZAgbiz, they are turned into useful animal nutrition products like calf milk replacers (CMRs), pig products and specialist animal health supplements such as probiotics, colostrum powder and electrolyte replacements.
Any loss stream product NZAgbiz cannot re-work is on-sold as ingredients for stock feeds, soaps and bio fuels.
The Going Circular category had more finalists than any other category and the other finalists were: Auckland District Health Board, Christchurch Airport + Fulton Hogan (PlastiPhalt), Ethique (category Winner), Flight Plastics, Fuji Xerox NZ, GoodFor, Innocent Packaging, Ricoh NZ, SKYCITY + Fonterra (Moo2Shampoo), Vinnies Wellington.