Ancalf ™ is as mother nature intended, with high levels of casein for better curding and ease of digestion, while providing the fatty acid butyrate to assist with young calves rumen development.
It means that your calves fully utilise all the nutrition from every feed and you get the best results too.
We care as much as you do that that you get healthier calves that grow into bigger heifers and in the long term are better producing cows.
Help your calves achieve their full genetic potential, today.
Start with Ancalf.
HELP YOUR
CALVES TO
ACHIEVE
THEIR
GENETIC
POTENTIAL.
START WITH THE FUTURE IN MIND
Ancalf™
Ancalf™ is New Zealand's full curding whole milk powder-based CMR, trusted by farmers since 1966. 
TYPICAL ANALYSIS
Protein
26%
Fat
20%
Lactose
43.5%
Moisture
3.5%
Minerals
7%
ANCALF™ SIZES
Available in 20kg bags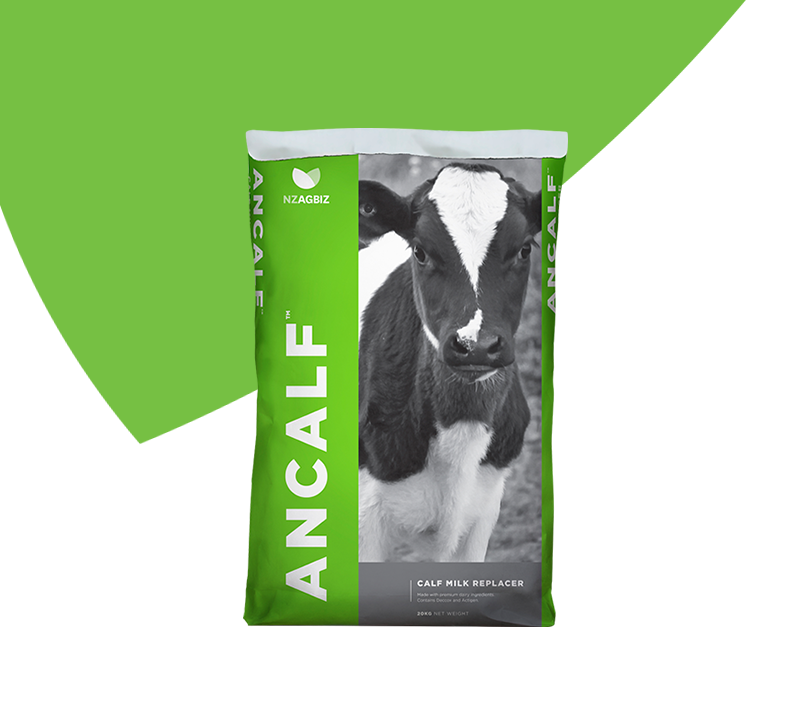 Calculate my returns
If you're using vat milk to feed your calves you are reducing your returns.

Vat Milk vs Ancalf™ CMR
Swap your herd's whole milk for Ancalf™ CMR and you could be better off at the end of the season.

Vat Milk vs Ancalf Finisher™ CMR
Easily determine your mixing quantities based on your herd size and age, plus add in litres of whole milk if combining with milk from the vat.
See the numbers for your farm.

Why Ancalf?
Meet Jenni and Rowan from Gordonton, and Tom from Karakariki, farmers who have tried CMR and are being rewarded with happy, healthy calves with cost efficiencies and ease of feeding.
Animal health and ease of feeding
If you want healthy calves with minimal fuss, use CMR.
Cost efficiencies
Feed your calves while getting paid for all your Vat milk.